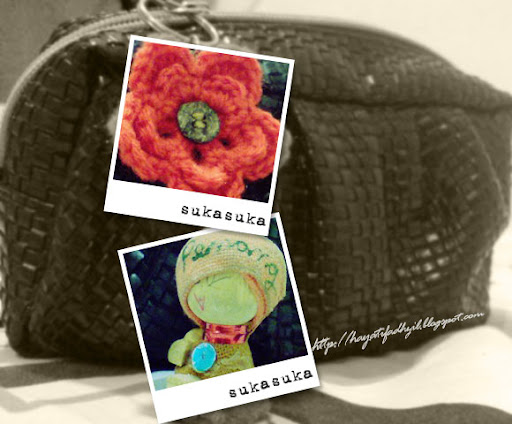 That night, aku terlalu boring. Ingat punya ingat aku pernah crochet satu bunga tapi, tak siap sepenuhnya. Kemudian aku pun selongkar balik kotak yg ku simpan peralatan2 crochet, dan jumpa...then siapkan mengikut imaginasi sendiri tanpa sebarang rujukan pattern. Bila dah siap, terpikir pulak nak letak kat mana....tengok keliling bilik dan jumpa beg lama.
Beg ni bukan lah come with pemegang zip sedemikian. Asalnya bulat gedabak macam earing artis dan berat. Sebab rasa terlebih HOT kalau pakai pemegang yg asal, so aku tukar dgn keychain itu agar nampak lebih CUTE (sila baca dgn gaya gediks dan mata kelip2 manja). Cian kan orang2 tu...dah kehilangan tangan, kaki tak da sebelah, 'serban' dia pun dah senget macam kena malapetaka besar. Dan sebagai tuan yg prihatin lagi berjiwa rakyat ni, aku pun suruh lah dia bersara drpd terus jg pemegang zip beg aku..
Maka diangkatlah darjat si Bunga Merah untuk menjadi pemegang zip beg aku yg baru. Walla! kini beg ku lebih menyerlah dengan kehadirannya. Lepas ni mesti lebih banyak mata2 yg akan memandang aku. He he he !!